Spatial Context of Cancer
The spatial context in which people conduct their every day lives encapsulates a person's multiple interactions with the social and physical environment that may have lasting health impact. Context-specific exposures, social conditions, built environment, people's behavior, and health care access may differentially impact an individual's risk for cancer and outcomes. Understanding the contextual influence on various stages across the cancer control continuum—from etiology, prevention, detection, diagnosis, treatment, and quality of life after surviving cancer—is a priority in our efforts to reduce cancer burden.
There are three main ways in which spatial context plays an important role in health:
Cancer and other diseases can be triggered by exposure to adverse environmental conditions. These exposures may include substances, such as the chemicals in tobacco smoke, or radiation, such as ultraviolet rays from the sun. But other ones are harder to avoid, especially if they are in the air we breathe, the water we drink, the food we eat, or the materials we use to do our jobs. The presence and concentrations of such agents may vary geographically. Because many cancers develop over a long period of time, knowing the spatial context throughout a person's life is important to understand his or her total exposure to toxic agents.
Air
Exposure to chemicals in the air can increase cancer risk. Such chemicals include industrial, auto, agricultural, asbestos, and pesticides.
Water
Exposure to chemicals in water can increase cancer risk. Such chemicals include VOCs and arsenic.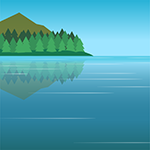 Radiation
Exposure to radiation can increase cancer risk. This includes both naturally occuring ultraviolet (UV) radiation from the sun and man-made radiation from nuclear accidents.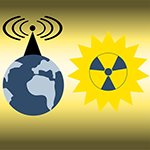 Viruses & Bacteria
Exposure to viruses and bacteria in food can increase cancer risk. Such viruses and bacteria include H. pylori, human papillomavirus (HPV), hepatitis, and HIV.
Characteristics of the neighborhoods in which people live, work, and go to school are an important determinant of human health. The built and social environments can have a strong influence on people's ability to adopt a healthy lifestyle, including their ability to get adequate exercise, eat healthy foods, and avoid the use of tobacco, drugs, and alcohol. The growing prevalence of preventable cancers suggests a need to understand how features of the built environment shape exposure to cancer development and distribution within a population. 
Exercise
Spatial context factors include neighborhood walkability and access to parks.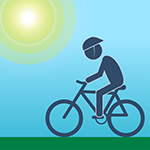 Healthy Diet
Spatial context factors include access to healthy foods such as fruits and vegetables.
Sprawl
Spatial context factors include development density, land use mix, the relationship between residence and employment locations, and street accessibility.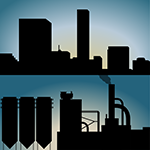 Availability of Tobacco, Drugs & Alcohol
Spatial context factors include the presence or absence of smoke free policies and the proximity of tobacco outlets to schools.
Social Environment
Spatial context factors include poverty levels, affordable housing, educational opportunities, and patterns of social engagement.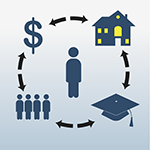 Crime & Safety
Spatial context factors include crime rates, perceptions of safety and the prevalence of risky sexual behavior.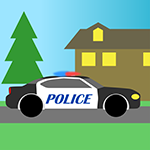 Related Content
Accessibility and quality of health care services is an important determinant of cancer risk and outcomes. Shortage of health services may lead to an increased incidence of cancer, decreased quality of life, or less-than-optimal outcomes for cancer patients. Accessibility to health care varies geographically accross urban and rural areas, ethnically and recially diverse neigborhoods, wealthy and impoverished areas. It is our goal to address these differnces and implement activities across the country to met the needs of all demographics—rich and poor, urban and rural, and all racial/ethnic populations.
Screening Services
Access to cancer screening services.
Latest Advances
Access to recent advances in cancer diagnosis and treatment.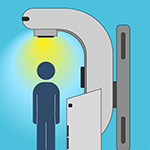 Measures of Access
Place-based access: distance from home or work location to provider offices; People-based access: cumulative opportunities for access along daily travel paths.
Barriers to Access
Geographic barriers: freeways, rivers, lack of public transit; Socio-economic barriers: poverty, lack of education, lack of health insurance coverage, and cultural and language barriers.
Related Content